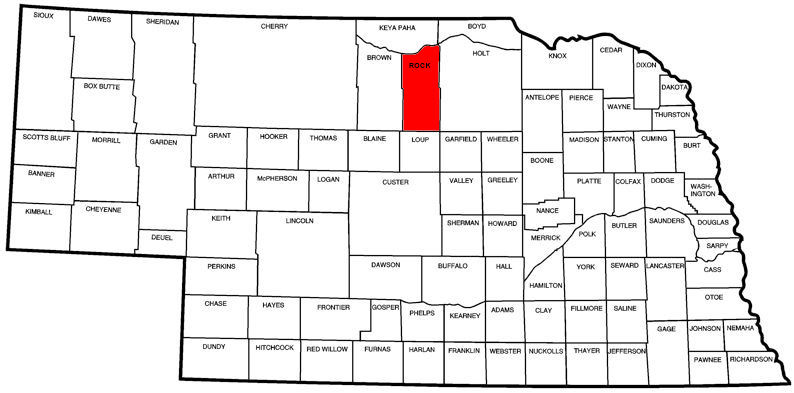 As you enter Rock County, you will see the red and white 81 license plate billboards that proclaim Rock County as the Beef County. During your leisurely trip through the sandhills of Nebraska, you must stop to admire our picturesque horizons! In spring and early summer, you'll enjoy baby calves frolicking behind roadside fences. Summer is pasture grazing time, when the hills are rolling with cattle, as well large round hay bales as far as your eyes can see. The year-round stunning sunsets and sunrises in Rock County are painted on the horizons, providing a glimpse into our tranquil countryside.
The city of Bassett is our county seat. During your trip to Bassett, consider watching a Wednesday sale at the Bassett Livestock Auction. Then journey over to the Historic Range Café where you can enjoy a meal and travel back in time for your overnight hotel accommodations. Allow time to shop at the Whistlestop for unique gifts or souvenirs of your Rock County excursion.
Historic Highway 20 runs east and west through Rock County. In addition to the city of Bassett, Rock County encompasses the Village of Newport, and communities of Duff, Mariaville, Rose, and Sybrant. Stop in Newport to play a round of pool at one of the smallest pool halls in the state. You may also follow the Cowboy Trail as it meanders through Rock County.
The Niobrara River creates our northern border. It is home to relaxing tubing, canoeing, and kayaking adventures on hot summer days. We invite you to float down the river and enjoy the scenery of cows grazing in the pastures under the wide-open sky.
Come visit Rock County, the Beef County of the Nebraska Sandhills, where cattle outnumber the people. May you find the scenery and activities as serene and enjoyable as we do!
Rock County Businesses
Business/WWW
Address
City
Contact #
BASSETT
The Whistle Stop
Open Mon-Fri 9A - 5:30P Sat 9 - 4. A unique shopping experience! Amazing selection of seasonal/home decor, women's apparel/accessories, gourmet food, kitchen accessories, gifts items. Great selection of toys/games for all ages! Coming - The Blue Moon Coffee shop and Ice Cream Soda Fountain!
121 Clark St
Bassett
(402) 684-3327
G & V's Market
& Fine Spirits
Open Mon-Sat 8A - 6:30P. Groceries and a huge section of fine beverages, Wine, Beer, Alcohol ,  Fantastic Meat Department. Our family-owned store offers a convenient one-stop shop where you can find everything you need from the everyday essentials to specialty items from around the world.
105 W Legnard
Bassett
(402) 684-3781
Rock County scenes


Rock County Links

Bassett Country Club 9 hole course 402-684-3449
Bassett Livestock Auction Weds. Sales 402-684-2361
Bassett Lodge & Range Café 7 am-2 pm 402-684-3379
Circle B Livestock western wear 402-684-3949
G & V's Market groceries/spirits 402-684-3781
The Porch antiques/crafts 402-322-1238
Pizza Place food 402-684-2555
Rock County Hospital 402-684-3366
Rock County Pharmacy prescriptions 402-684-2730
Whistle Stop gifts/flowers 402-684-3327


Interesting area Information
GEOCACHES