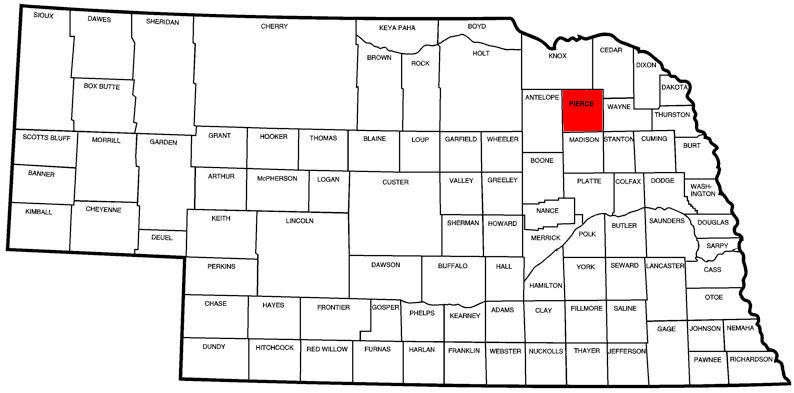 Pierce County is a special place. We're progressive but focused on families. We are growing and making our communities even stronger for future generations.
Whether you are visiting the area, want to return to Nebraska, or are considering a move here for the first time, we invite you to get to know Pierce County. It's special, just like you.
With a solid agriculture base, Pierce County is full of hardworking individuals ready to lend a helping hand. These characteristics are seen in the workplace, schools, churches and on our city streets.
The communities of Plainview, Osmond and Pierce offer vibrant downtown areas, beautiful parks, playgrounds, pools, libraries, camping, and recreation areas.
Areas of interest include scenic Willow Creek State Recreation Area. Located 1.5 miles southwest of Pierce. The park covers 1,600 acres and offers camping, fishing, boating, swimming, water skiing, and hunting. An 8-mile hiking and horseback limestone trail winds through the area.
Gilman Park Arboretum. This award-winning park 14-acre park includes Bill Cox Memorial Lake, a 1.2 miles service path, over 325 species or cultivars of woody plants, and eight landscaped gardens containing over 80 varieties of perennials and grasses. The Arboretum also features a 1913 "rigid-connected lattice pony truss" bridge built by Canton Bridget Co. of Canton, Ohio. The bridge is listed on the National Register of Historic Places.
Other area attractions include, the Pierce Historical Museum, Pierce Community 9-hole Golf Course, Plainview Community 9-hole Golf Course, Plainview Klown Doll Museum, Plainview 1880 Depot Museum, and the Osmond Veterans Memorial,
Highways 20, 13, 81, 98, and 121 will take you wherever you want to go in beautiful Pierce County. We hope to see you on the Backroad Tour soon!
Pierce County Businesses
Business/WWW
Address
City
Contact #
OSMOND
Thomsens Corner
Open Mon-Thurs 3P-close, Fri- Sat Noon - close, Sun 2P - close. 100 year old classy bar with beautiful amazing back bar. Historic. Great people and fun!
302 N. State St.
Osmond
402-326-4466
PLAINVIEW
Nebraska 13/20
Open Mon - Sat 3pm - 11pm. Closed on Sun. Entertainment Complex with Bowling, Skill Games, Pool and Other games that serves homemade food and amazing drinks. Friendly small town service with great food. Bowling prices are inexpensive
118 South Main
Plainview
402-928-0630
Mary's Restaurant
Open Mon 11A-2P Tues-Thurs 11A-9P, Fri 11A-10P Sat. 8A-10P Sun. 8A-2P. Delicious home cooked meals from Scott's Mom's traditional Recipes-- well known in the area, such as the chicken Fried Steak and Prime Rib
108 S West
Plainview
(402) 671-5020


Pierce County Links
County
Economic Development – Facebook
Economic Development Website
Instagram
PIERCE
City
PLAINVIEW
City


Interesting area Information
GEOCACHES
There are at least 52 geocaches in Pierce County