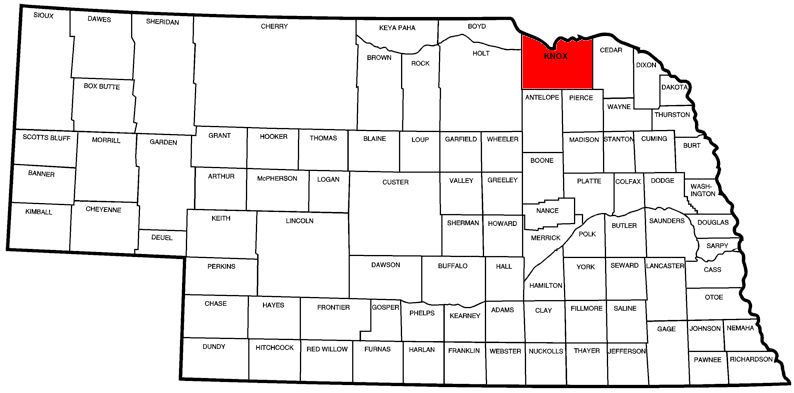 Visit Knox County!
What is there to do and see in Knox County? Well for starters we have two Nebraska State Parks that are absolutely beautiful! The Niobrara State Park rests in the hills overlooking the confluence of the Niobrara and Missouri rivers and the town of Niobrara. Camping, hiking, horse back riding, cabin stays, fishing, biking, sand volleyball, swimming, kayaking, and canoeing can all be done at the Niobrara State Park. Have a family event, the lodge can accommodate large group gatherings as well. On the eastern side of the county the Lewis & Clark State Recreation Area sits along the shores of the second largest lake in Nebraska, the Lewis & Clark Lake, which is shared with Yankton, South Dakota. At Lewis & Clark SRA boating, camping, cabin stays, biking, hiking, and swimming at the only public beach in Knox County are some of the activities that can be enjoyed. Do not forget about the best ice cream at the Weigand Marina!

Now if culture and history are what you are looking for, guess what, we happen to have TWO Native American Tribes: The Ponca Tribe of Nebraska and Santee Sioux Nation. The Ponca Tribe has a beautiful educational walking trail, authentic Earth Lodge, museum, Chief Standing Bear statue and annual Pow Wow! The Santee Sioux Nation owns and operates the Ohiya Casino and Tatanka Golf Resort in which was named "Best New Golf Resort" in 2016. The Santee Sioux Nation hosts annual Pow Wows, has a beautiful walking trail along the Missouri River, an educational museum, and a health and wellness center with bicycle and kayak rentals.
The village of Verdigre has claimed to be the Kolach Capital while the proud Czechs of the community celebrate Kolach Days with lots of polka dancing and authentic Czech foods June 10th, 11th, 12th and 13th. Learn about the Czech heritage at the Verdigre Museum. Lodging and cabin rentals can be found in the Czech Alps region. Bring your camper and swimming suit to stay in the Wildwood Acres Park.
Wausa is filled with Swedish community members who celebrate their heritage annual events of Swedish Smorgasbord, Pork Chop Barbeque, and Labor Day Weekend Celebration. Bring your camper and stay in the Wausa Municipal Park featuring a new swimming pool, playground, sand volleyball, arboretum, tennis courts and disc golf! Bring your club for golfing at Rolling Hills Golf Course. Need meat for your grill, Wausa Locker has all cuts for sale. Plenty of dine in options in Wausa!
Niobrara is the hidden secret in Knox County for outdoor recreation, hunting and fishing. The Niobrara State Park, Ponca Tribe of Nebraska, Chief Standing Bear Bridge, Niobrara Valley Golf Course, Niobrara Adventures Campground & Beach Maiden's Leap, Mormon Monument, Sage Brother's Memorial, lots of lodging and great places to eat while you visit. Travel the Outlaw Trail / Scenic Highway 12 through Niobrara and northern Knox County.
Santee Sioux Nation is located in the beautiful rolling hills of Knox County along the Missouri River shoreline. Santee was founded in June of 1866 when their ancestors moved there due to conditions in Crow Creek. Modern day Santee has grown as a community with a state-of-the-art health clinic, a new casino, new fire hall, new swimming pool, youth centers, and a new building for The Nebraska Indian Community College Santee campus. Housing continues to be constructed as well as a new justice center. Santee continues to thrive and grow as a community. Annual Pow Wow's are celebrated by tribal members for the public to enjoy.
The city of Creighton can be found east of highway 14, north of highway 20 and west of highway 81. Ashfall Fossil Beds is a short 22 miles west of Creighton where you can learn all about the well-preserved fossilized organisms. Creighton is famous for their "Berry Pepper" sweet treat that can be purchased at the swimming pool, Gragert's Grocery story, C-Mart or 59 Express. Berry Pepper Days is the annual community celebration enjoyed by many June 18th, 19th, and 20th. Learn about Creighton's history at the Creighton Historical Center. On the edge of Creighton is the Creighton Community Golf Course is a 9-hole course with a country club and bar. At Christmas time SantaLand is enjoyed by people from near and far.
The city of Crofton Tucked in between prairie farmland and the chalkstone bluffs of Lewis & Clark Lake, Crofton is Northeast Nebraska's hidden gem for outdoor adventure, colorful history, culture. Lewis & Clark State Recreation Area is a short distance from Crofton where lots of outdoor recreation can be enjoyed along the 2nd largest lake in Nebraska! Crofton is the home to the largest public display of antique barn pulleys. The Crofton Lakeview Golf Course is a beautiful and challenging course overlooking the Lewis & Clark Lake.
Bloomfield is a busy community with much to do. The best county fair around is the Knox County Fair located in Bloomfield where "State Fair Entertainment at County Fair Prices" has been proven time and time again. Many horse events are held at the Harm and Tulley's Event Center. Boutique shopping and can be enjoyed in Bloomfield as well. Bloomfield Appreciation Dayz are celebrated June 17th – 19th. Bring your camper and stay at the beautiful Bloomfield City Park. Do not forget your suit to take the kids swimming at the Bloomfield Municipal Swimming Pool.
Winnetoon is a village where history comes to life at the Worlds Only Winnetoon Boardwalk Back-In-Time! This is a peaceful, quaint place to experience some unique history of Knox County. Stop in the Mall & Post Office for some antique and original finds.
Center, Nebraska is in the Center of Knox County and the home of the Knox County Courthouse. Take a drive to Center where the only Iron Zoo can be found sprinkled throughout the village. Pack your lunch and take the kids to the park while you enjoy your picnic.
If you are traveling along the Outlaw Trail / Scenic Highway 12, stop in at the Lindy community with a great Country Club to stop in for a drink and meal if you are taking the back roads to Devils Nest. This is where the famous outlaws like Jesse James and Kid Wade to name a couple hid out in the hills along the mighty Missouri River.
Knox County Businesses
Business/WWW
Address
City
Contact #
BLOOMFIELD
Blooms & Bling
Open Mon-Fri 8 to 5. Sat 9 to noon. Closed Sunday. Floral store with home decor, homemade craft items, seasoning, dip mixes, along with several gift ideas. We have a wide variety of gift items for all ages.
121 N Broadway
Bloomfield
402-360-2147
Hefner Hardware
Open 8 AM-5 PM Mon - Fri and 8 AM-1 PM on Sat. Hardware Store associated with Ace Hardware. We also offer HVAC and Appliance Services.
201 E Main St
Bloomfield
402-373-4581
Misty's East
Open Tues.-Sat. 2P - 2A Bar/Grill
107 N Broadway
Bloomfield
(402) 373-4316
CREIGHTON
Creighton Public Library
Open M 12-5, T 10-5, W 12-7, Th 10-5, F 12-5, S 9-1, Sunday closed. We have a lot of programs to offer for our community.
701 State St
Creighton
402-358-3767
CROFTON
Main Street Treasures
Wed, Thurs, Fri, 10 am - 6pm; Sat 10 am - 3 pm. Non-profit thrift store operated by volunteers and stocked by generous people's donations. Profits benefit the Crofton area. We recycle and sell donated merchandise at low prices and invest the profits from the store to positively impact lives.
111 W Main St
Crofton
(402) 388-4545
Wiebelhaus Recreation
Open Tues.-Fri. 10A-close, Sat.-Sun. 9A-close. Restaurant, Lounge, catering & banquet room available and have been a family business for 77 years. Great food and sports themed business
115 W Main St
Crofton
402-388-4640
NIOBRARA
Moody Motor
Open 8 - 5:30 Mon - Fri, Sat 8 - 2 closed Sun. Ford Dealership with a very helpful staff that can help with new and used vehicle sales and maintenance and bodyshop repair. Stop in and see what a family owned car dealership can offer you
251 Spruce St
Niobrara
(800) 745-5650
Ponca Tribe of Nebraska
Open 8 to 4:30 Monday-Friday; Education Trail is open 7 days a week for visitors. Ponca Museum, Chief Standing Bear Statue. Learning about the unique culture and history of the Ponca Tribe
2523 Woodbine St
Niobrara
402-857-3391
VERDIGRE
Verdigre Public Library
7:00 am to 12:00 pm
101 E Third Ave
Verdigre
402 668 2677
WAUSA
Lied Lincoln Township Library
Mon & Tues 10-6, Wed & Thurs 10-12 &1 -6, Sat 9:00-1:00. Library has a "large print" book section, up to date computers, 3D Printer, Large bed scanner, PS4, Nintendo Switch, STEM kits, sublimation printer and heat press, Cricut, Osmo Kits available.
603 E. Norris St
Wausa
(402) 586-2454
WINNETOON
Elaines Tavern and Café
Open Mon - Sat - 7A - 8P. Dine in or carry out! Full Menu, Daily Lunch and Supper Specials. Full Salad Bar. Nestled in a 1900 Vintage town with fun statues and 1900 buildings set to bring you back to the old west. Great place to take photos in the 1900 town and beautiful park.
308 Main St.
Winnetoon
(402) 847-3321


Knox County Links
Bloomfield
City
Center
City | County
Creighton
City
Crofton
Community Club | City
Niobrara
City | Ponca Tribe
Santee
Sioux Nation | Ohiya Casino
Verdigre
City
Wausa
City
Winnetoon
History


Interesting area Information
GEOCACHES
There are at least 108 geocaches in Knox County