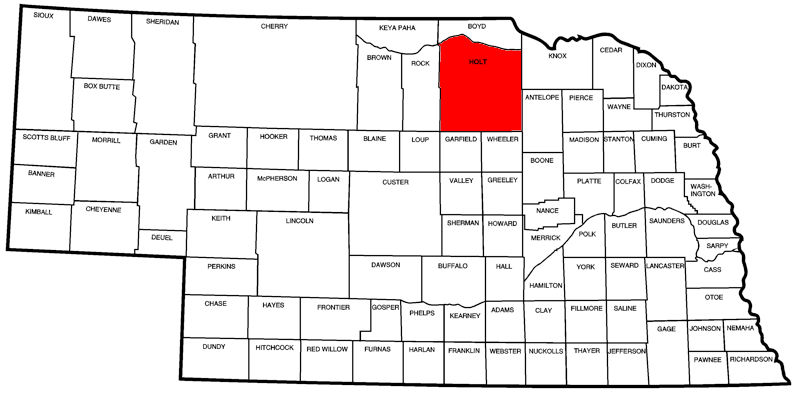 You will want to come cruise through the rolling Sandhills and flatlands of Holt County. We have three major highways that will carry you through an exciting shopping and tourism experience.
Take a trip to Holt County to visit many boutiques, flower shops, gift shops, nurseries, coffee shops, brewery, tap room, jewelry store, and restaurants for culinary delights of every taste. We offer three golf courses for all skill levels to enjoy too.
You can cross the county on Scenic Historical Highway 20 that runs from the east coast to the west coast, taking the traveler past the turn to Page, as well as through Inman, O'Neill, Emmett, Atkinson and Stuart.
There is U.S. Highway 275 that will bring you from the urban area of Omaha into Holt County through Ewing, home of the Savidge Brothers Historical Marker. This highway also leads travelers to the World's Largest Shamrock in the heart of downtown O'Neill, where the highway ends, or begins to those that live there.
Traveling north to south, U.S. Highway 281 will bring you past the turn to Chambers, home of the Veterans/Homestead Memorial Park. Continue on north and you will again cross the World's Largest Shamrock on your way to more adventures. The Niobrara and Elkhorn rivers provide fishing and minimal recreation in the spring and summertime. Recreational areas along these two rivers include Atkinson Mill Race Park and Carney Park in O'Neill. Or if you would like to see the county from a more natural perspective, take The Cowboy Trail that winds through the whole county with easy stops in Atkinson, O'Neill, Inman and Ewing for breaks and exploring.
Holt County Businesses
Business/WWW
Address
City
Contact #
ATKINSON
First Stop
Open 5A - 11P Convenience Store that sells gas and diesel.
802 E. Hwy 20
Atkinson
402-925-2271
Something Special
by Marilyn
Open M-F 9A-5P, Sat 9-4. Home decor and decorative gifts
204 S. Main
Atkinson
402-925-2754
ONEILL
Shamrock Nursery
The largest selection of plants in the area. We grow and sell over 600 varieties -- poinsettias, annuals, vegetables, perennials, roses, and shrubs. Greeting cards, outdoor dining sets, garden decor, and more. O'Neill, or visit one of our Spring satellite locations in Neligh, Norfolk, or Verdigre
49368 E. US Hwy 20
Oneill
402-336-3323
Krotters Home Center
Open 8am - 6pm Mon - Fri 8 am to 3 pm Sat Sunday closed. Huge store full of gifts, Kitchen Items, appliances, Mattresses, Grills, Power Tools, General home improvement supplies, windows, doors. Very large store Variety of items to look at, Very spacious, Friendly staff
212 W Douglas St
Oneill
(402) 336-1733
STUART
Cast Iron Bar
and Grille
Open 11-2pm 5-9pm Monday - Saturday. Casual dining serving burgers, salads, steaks and more - at a reasonable price!
806 E. Hwy 20
Stuart
402-924-3784
SouthSide Mini Mart
/Stuart Village Inn
Open Mon-Sat 6am-11pm Sun 7am-11pm Convenience store/gas station and motel. Clean bathrooms, great pizza, friendly staff, nice motel rooms!
46729 US Hwy 20
Stuart
402.340.3477


Holt County Links
Atkinson
City | Recreation | Cowboy trail | Chamber
Atkinson-Stuart Country Club | Museum
Cemeteries:
Woodlawn Cemetery – 710 W. 5th St., Atkinson
St. Joseph's Cemetery – 713 W. 5th St., Atkinson


Interesting area Information
GEOCACHING
There are at least 13 geocaches in Holt County
DISK GOLF:
Atkinson Mill Race Park