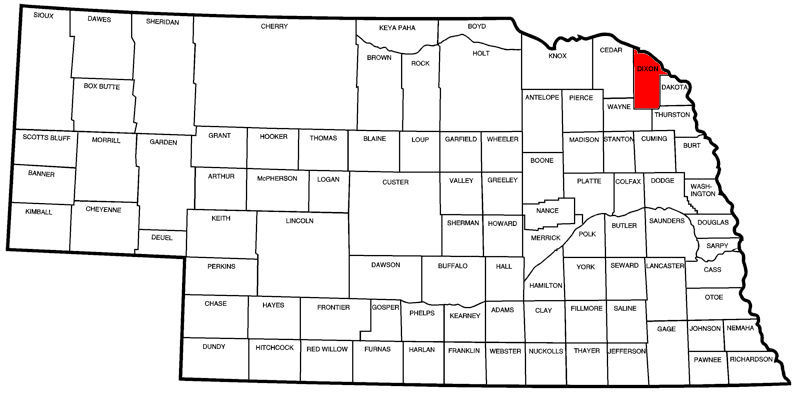 Located in the Northeast corner of Nebraska; boarding South Dakota and Iowa is picturesque Dixon County, home to Ponca State Park. Ponca State Park, the eastern gateway to the 59-mile section of unchannelized Missouri National Recreational River; encompasses 2,400 acres of rolling woodlands, scenic vistas, Missouri River access, great wildlife viewing, 22 miles of trails, special events, and so much more. Lewis and Clark passed through Dixon County during their epic journey up the Missouri River in 1804. Today, the National Park Service has designated Ponca State Park as part of the Lewis and Clark Historical Trail. Just inside the community of Ponca, NE is the Adam's House Museum and Blacksmith Shop; a living history museum representation of the vital role of blacksmiths in the history of American communities. View original tools and machinery restored to working condition. The Days of '56 Rodeo, the 3rd largest PRCA Rodeo in Nebraska and the largest outdoor expo, the Missouri River Outdoor Expo are held annually at Ponca, NE.
Thirteen miles northwest from Ponca is Newcastle, NE, home to Casa De Paz House of Peace a spiritual respite retreat, Turkey Creek Equestrian Campground, Annie's Dig, and the annual Labor Day Celebration and Threshing Bee where you can see firsthand how wheat and oats were harvested in early years. Annie's Dig is an archeological excavation site listed on the National Register of Historic Places; open by appointment only.
Eighteen miles southwest from Ponca is Allen, NE, home to the Dixon County Museum. Early memories of how life was during the founding years of Dixon County are found here; household items, pictures of the early ten towns, pictures from the 87 country schools, military uniforms, railroad history, farming implements, firetrucks, horse drawn school bus, and genealogy material. Allen's local eatery Henry's is located in the former Goods Garage and International Harvester Dealership building.
Eleven miles south of Allen is the community of Wakefield with its cobblestone main streets, 1882 Train Depot Museum, 1915 Round Barn, 1890 Haskell House, Little Red Hen Theatre, and the 1915 Graves Library Museum. The Little Red Hen Theatre puts on three productions annually. Wakefield is also home to the annual Balloon N' BBQ Celebration.
Dixon County Businesses
Business/WWW
Address
City
Contact #
MARTINSBURG
Bob's Bar and Grill
Open 7A to 1A Serve lunch specials Monday through Friday Menu consists of bar/pub foods. Laid back atmosphere that's off the beaten path
5205 Main Street
Martinsburg
402-945-2995
PONCA
Cedar Hills Bar & Grill
Open Tues - Thurs: 11am - 10pm Fri/Sat: 11am - 12am Sun: 11am - 10pm Mon: CLOSED Unique, one of a kind - experience this icon in Dixon County
3rd street
Ponca
(402) 755-2633
Outlaw Pizza
Open Lunch Tues-Sat 11-2 and DinnerTues-Sat 4.30-8.30. Pizza, hand scooped ice cream, candy, restaurant atmosphere
105 East 3rd St
Ponca
(402) 755-2223
WAKEFIELD
The Quilt Shop
Open 9 am - 5 pm M-F, 10am - 2 pm Saturday, additional times by chance or appointment. 75 -100 quilts/quilted items on display at all times. "Where there is a quilt show every day". Over 8,000 bolts of fabric. Over 30 antique sewing machines on display
314 Main St
Wakefield
(402) 287-2325


Dixon County Links
Allen
Dixon Co. Museum | City
Concord
County Fair
Ponca
Days of 56 Rodeo | State Park
Community Club | Outdoor Expo
Newcastle
Turkey Creek Ranch | Casa de Paz
Wakefield
Graves Library-Museum | Heritage Organization
Balloon Festival | Little Red Hen Theater | City


Interesting area Information
GEOCACHES
There are at least 39 geocaches in Dixon County