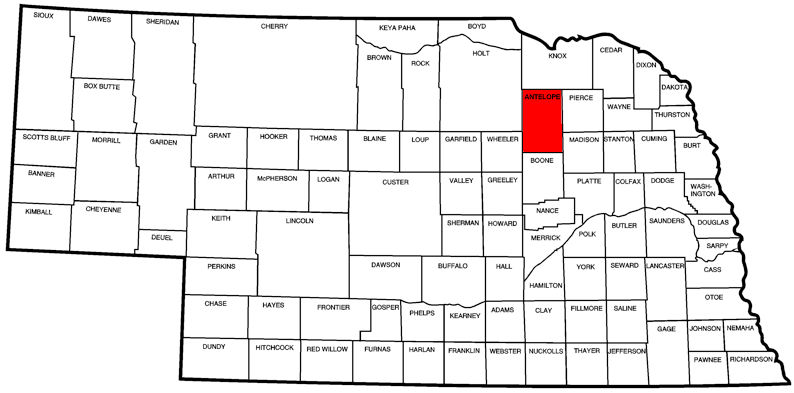 Come, discover new possibilities in Antelope County! Allow yourself to go on an unexpected adventure where you can get a taste of history by visiting our museums, such as the Neligh Mill, Orchard Museum, and Antelope County Museums!
Explore the world around us by visiting some of our parks and recreational areas like Ash Falls, Rainbow Fountain, and Chalk Mountain at Grove Lake. Take in natures natural beauty all around you, especially while sitting on a park bench at Riverside Park to view the river front or while hiking for miles on end on the Cowboy Trail!
Let your taste buds explore the ample food options that each town offers such as the 3 and Company Bakery in Clearwater, Sly's Family Bar and Grill in Neligh, the Coffee House in Elgin, and the Branding Iron in Tilden!
Check out some of the many shopping possibilities such the different antique stores, Neligh Flower Shop, and the Sidebar. Make it a whole trip by staying at one of our motels, B&B's, or camping at our campsites like Riverside Park!
Don't be afraid to let go a little and relax and unwind by partaking in just a few of the many possible activities such as fishing, swimming, biking, or visiting one of the few remaining Drive Ins left in Nebraska!
Every traveler needs a little guidance every now and then, so don't be afraid to pop on by the Tourism Office in Neligh for a little extra assistance! Bring out your inner adventure by coming to Antelope County!
Antelope County Businesses
Business/WWW
Address
City
Contact #
NELIGH
Neligh Flower Shop
Open M-F 9am-5pm Saturday 9am-12 Floral and gift shop. Fresh floral arrangements, candles, sympathy items, baby gifts, truffles , home decor, including Nebraska items. We also carry Neligh's 150th memorabilia and unique gift items for all ages.
317 M St
Neligh
402 887 4510
Rural Route One Boutique
Open SUN 12-5 M-F 10-7:30 SAT 9-5 Clothing Boutique- women's, men's, children's. One stop shopping for all walks of life. We have a western boho vibe for women, a men's line, a children's line & a Nebraska Local section
315 M St
Neligh
402 659 1856
River Mill Coffee Co
Open Mon-Thurs 7am-5pm, Fri 6:30am-5p, Sat 7am-2pm Cozy coffee shop that celebrates rural Nebraska while also tying in a modern urban feel. Our goal is to have every customer gets a high quality carefully crafted beverage and feel like they are among friends. We take coffee seriously
407 W 11th St
Neligh
402-929-2425
ORCHARD
Corner Hardware and More
Open Mon thru Fri 8am to 5pm ; Sat 9am to 2pm Small town hardware store but also has delicious homemade fudge and cute home decor. We have something for everyone.
3040 E Hwy 20
Orchard
402-893-3111
ROYAL
Royal Bar and Grill LLC
Open M-Th 11-10, F-Sat 11-1, Sun 1-10 Friendly neighborhood gathering place serving great food, drinks, and hospitality to everyone. We feature a full bar, casual fare, and customer service we hope will better the days of everyone who walks in.
3040 E Hwy 20
Royal
402-242-0900
Royal One Stop
Open M-Th 11-10, F-Sat 11-1, Sun 1-10 We give that small home town feel that everyone matters and gets treated like family. Gas, diesel, oil, feed, pet food, pop, grocery items, sandwiches, candy bars, gloves, and boots
1000 West Hwy 20
Royal
402 893 3861


Antelope County Links
NELIGH
City | Chamber
CLEARWATER
City
ELGIN
City | Chamber
ORCHARD
City | Chamber
OAKDALE
City
TILDEN
City
Attractions:
Ash Falls – Chalk Mountain – Neligh Mill – Antelope County Museum – Pierson Wildlife Museum – One Room School House – White Buffalo Girl's Grave – Ponca Trail of Tears Marker (Neligh) – Cowboy Trail – Riverside Park – Fred Penn Park – Neligh Drive-in Theater
Cemeteries:
Laurel Hill Cemetery, Neligh – Frenchtown Cemetery, Clearwater – Clearwater Cemetery, Clearwater – West Cedar Valley Cemetery, Elgin – Tilden City Cemetery, Tilden – Hope- Enterprise Cemetery, Orchard – Grimton Cemetery, Orchard – Orchard Hill Cemetery, Orchard – Hutchins Cemetery, Meadow Grove – Jackson Cemetery, Meadow Grove – Danish Cemetery, Brunswick – Royal Cemetery, Royal
Antelope County's 150 years of history
Legend has it that Antelope County's name came after a group of early settlers who killed and ate several pronghorn, which people at the time referred to as antelope, even though they are not technically called antelope today.
Antelope County is located in the center of Nebraska's northeastern corner. Stretching 36 miles long and 24 miles wide, the county's gently rolling slopes are bisected by the Elkhorn River Valley. Archeological evidence shows the area has been home to and used as hunting grounds by Native Americans for several thousand years. In historic times, the Pawnee, Ponca, Lakota Sioux, Cheyenne, and Arapahoe tribes periodically hunted in the region.
The first documented Euro/American exploration of the county was carried out by fur trader James MacKay. According to MacKay's journals, he and the Omaha Tribe followed the Elkhorn River on their way back from hunting in the Sandhills in 1795.
With the passage of the Homestead Act in 1862 and the end of the Civil War in 1865, the lure of starting a new life on land west of the Mississippi River was an irresistible force. In 1867, Michael J. Hughes was the first temporary settler in the Antelope County region. He resided on the north side of the Elkhorn River. Early in 1868, George St. Clair built a cabin beside a creek near present-day Tilden. He had trapped on the Elkhorn River and knew the area well before claiming his homestead, which contained the finest oak timber in the county. Although he abandoned his claim, St. Clair Creek still bears his name. Allan Hopkins filed the next recorded claim, and his settlement was permanent.
The Nebraska Legislature approved an act to form the county on March 1, 1871, four years after Nebraska's statehood had been established.


Interesting area Information
GEOCACHING
There are at least 21 geocaches in Antelope County
Historical Links:
Antelope Co. Museum
Neligh Mill
Ashfall
History (cont.)
With the end of the Civil War, railroads expanded their lines across the state encouraging settlement and the growth of communities. In 1872, Oakdale became the first town in the county. A year later Neligh was established. By December 1, 1879, the railroad reached the Antelope County line. A week later, it arrived in Oakdale, and in July 1880, it made its way to Neligh.
Clearwater Station was established in the fall of 1880. After the Fremont, Elkhorn & Missouri Valley Railroad erected a depot on the line dividing Madison and Antelope counties in 1879, the town of Tilden was organized in 1880. Orchard, originally named Pacific Townsite, was one of several towns founded after the Chicago, Burlington, & Quincy Railroad built a line from Sioux City, Iowa, to O'Neill, Nebraska. Brunswick, founded in 1890, was on the same route. Royal was also organized in 1890 along the Sioux City-to-O'Neil line. Elgin, created in 1887, changed the direction of its Main Street to correspond with the direction of the railroad.
Trains contributed to the county's growth, bringing settlers to claim government land. In 1877, the population was 1,036; by 1883, it had grown to 6,407. In addition to carrying passengers, trains transported agricultural products and delivered cattle and hogs to market. The Neligh and Oakdale mills used the railroad to import additional grains, grind them into flour, and then ship it to other areas of the country.
Gristmills played a vital role in the rural economies of the late 1800s and early 1900s. Farmers delivered their grain to the nearest mill, exchanging it for cash and flour or selling it to a miller directly. The price paid for grain varied with the seasons and with the national economy. Invariably, the winter months brought the highest prices. Gradually, large corporations dominated the milling industry, forcing small town mills to shut down.
A century and a half has passed since the county's founding in 1871. The passage of time has brought inevitable changes. The most significant change has been the loss of people. The population, which peaked in 1920 with a count of 15,243, has declined in each succeeding decade. The 2010 census reported a total of 6,685 people.
Patterns of land usage have also changed. At the beginning of the county's settlement, farms averaged 160 acres. Today 160 acres is referred to as a quarter section since it is one-fourth of a square mile of land (640 acres). Modern farmers often farm many quarters. With advances in farming technology, fewer people are needed to grow and harvest crops, especially since the land can be irrigated with center-pivot irrigation systems that require much less labor than older forms of irrigation. Currently, only 27 percent of the county's residents are engaged in agriculture. While agriculture continues as a key driver of Antelope County's economy and remains a land use of much of the county's 857 square miles of land, residents are also employed in diverse businesses and industries. The Ashfall Fossil Beds State Historical Park, a National Natural Landmark, is located within the county, drawing tourists from many areas. Residents take pride in their close-knit communities, and many people serve in volunteer positions, such as for local fire fighting and rescue units, in addition to their full-time employment.