Visit us in Northeast Nebraska!
Are you ready for an adventure? Do you want to get away and travel the backroads? Come along as we help you fulfill those plans! Traveling the "Best of the Backroads Tour of Northeast Nebraska", you will travel through 8 Counties, with 59 businesses, enjoying the colorful landscape of the "rolling hills" and the picturesque view of the Missouri River. Reading the history on the strategically-placed viewpoints will take you back hundreds of years!  Did we mention that in 2023 there are $4500 in cash prizes?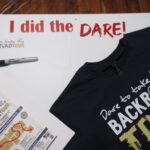 The first person to stop in at one of the 59 Dare to take the Backroad Tour 2023 –wins a T-Shirt! There is also a I Did the Dare Board to sign in on and – just for fun, leave a comment!


As you travel the "Backroads", you will come upon small towns that encounter rich heritage demonstrated with their unique and quaint shops and restaurants. You will see merchants displaying their talents— the taste of home-cooked meals, and goodies that will bring you back to your Grandmother's recipes. Hidden Treasures, Historical Landmarks, Heavenly Treats, and Hometown Hospitality… that is what you will find on the Best of the Backroads Tour in Northeast Nebraska!
There are also County Fairs, Geocaching (or download the Geocaching app on your phone), Golf Courses… and many other events and activities!  Check out the 'Events' page to learn more. Have fun this season traveling Northeast Nebraska!
Here's how to get started:
Get your map at a participating business or on this website.
Visit participating businesses and places to collect stamps in order to win cash prizes! Scan their business QR code with your phone camera to vote for a "Best of…" and to register with their digital ID for season-end prizes.  The more locations you stop at and the more you vote at those locations the bigger the prizes you are eligible for!
Great family friendly activity, photography opportunities, outdoor recreation, geocaching opportunities.
Dates of the Backroads Tour are May 21st through September 4th,2023.
Mail completed forms to:
Hartington Economic Development
PO Box 427
Hartington, NE 68739
Or email:
[email protected]
Deadline to mail forms in is Friday, September 18th, 2022.
We hope you enjoy traveling through Northeast Nebraska as we enjoy you visiting us!
<<<
"The Whole Tour was lots of fun saw more of Nebraska than I've ever seen before. People that say Nebraska is flat really have never toured Nebraska!"
~~Sandra

"We so enjoyed the places we got to go."
~~Terry

"Fun experience makes you try new places."
~~Connie

"The Whole Tour was lots of fun saw more of Nebraska than I've ever seen before. People that say Nebraska is flat really have never toured Nebraska!"
~~Sandra

"Love doing the Backroad tour each year. Looking forward to next year."
~~Holly

"Fun to stop at all places love doing it."
~~Heather