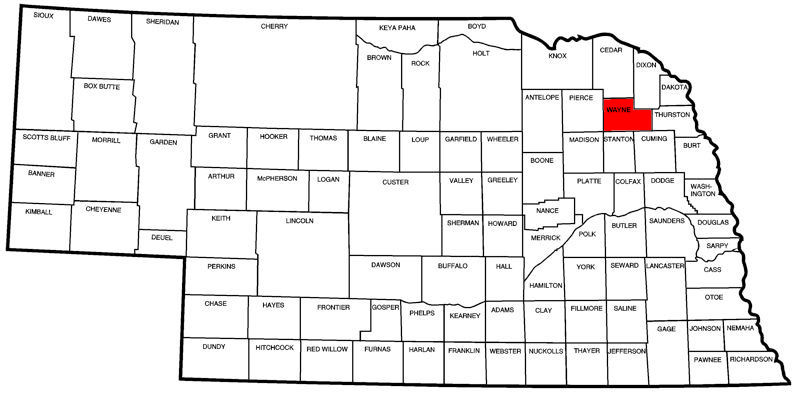 Welcome to Wayne! Wayne is known for the Wayne Chicken Show and Wayne State College. Wayne has endless adventures to explore, retail therapy, unique dining, and more!
Visit our historic downtown and shop our unique stores such as Thrift Warehouse, The Flower Cellar and W.W. Galore. If you're hungry make sure to stop at AquaPop for an afternoon pick me up and load up on their delicious gourmet popcorn. Take in art in all forms at Blue Cat Gallery and Studios and purchase a souvenir from a local artist to remember your visit. New in 2021 is the Wayne Sculpture Walk throughout downtown featuring 10 artists from across the country.

If you are looking for a special gift, stop by the Wayne Greenhouse and see their photo shop, gift selection, home décor, flowers and more! This business is celebrating their 100th anniversary all year long!
Looking for an out of this world adventure? Stop by the Fred G. Dale Planetarium and enjoy a laser or planetarium show. If you want to stay grounded, check out the Wayne Country Club and play a round of golf!
Looking for a meal during your busy day? Enjoy lunch or supper at The 4th Jug. Be sure to try their brick oven pizza! After a long day you can rest your head at the Sports Club Motel and wake up feeling refreshed for another day of adventure.
The City of Wayne sits at the intersection of east/west highway 35 and north/south Highway 15 and is the county seat for Wayne County.
Other communities in Wayne County are Carroll, Winside, and Hoskins and Sholes.
History of Wayne
The first settlers in the Wayne area arrived from Lee County, Illinois, in 1869. In 1881 the railroad extended a line through the county linking Norfolk, Nebraska, and Sioux City, Iowa, attracting many settlers to the area. The county and city were named for the Revolutionary War hero, General Anthony Wayne whose daring reputation seems to have inspired steadfast loyalty in his men and his friends.
The desire to provide opportunities for higher education prompted Professor J.M. Pile, with the help of a number of local citizens, to open the Nebraska Normal College in 1891, the beginning of what is now Wayne State College.
Wayne has since evolved into a community with a unique balance between agriculture, education and industry, providing a stable environment for all three, offering many advantages to those who choose to come here to live, work or play. You will enjoy beautiful scenery, wonderful historic sites, bountiful outdoor and indoor recreation opportunities and unique stores and restaurants.
Wayne County Businesses
Business/WWW
Address
City
Contact #
WAYNE
Blue Cat Gallery & Studio
Open Wed -Sat, 10am-5pm. Original art in a variety of styles and media, featuring local, regional, and national artists. We also offer workshops and art classes for children and adults.
114 W 3rd St
Wayne
Fred G. Dale Planetarium at WSC
Open Summer hours Mon - Fri 8:30 am - 12 noon. An out-of-this-world immersive experience that can show you the current night sky, transport you to the surface of the Moon, fly you to the edge of the galaxy, and more! Also, full dome shows about a variety of astronomical topics and laser shows featuring many or your favorite musical artists -- stop on by!
1111 Main St
Wayne
866-WSC-CATS
Thrift Warehouse
Open Mon - Sat 10am-5pm. We are a thrift/consignment/retail store that offers a little bit of everything, new stuff, old stuff
121 Main St
Wayne
(402) 833-1810
Birch Room Chophouse
Open Tues—Sat 5 pm-9 pm. American food in a locally owned and operated business. Every savory, hand-formed burger is Nebraska beef, from the owner's family farm! Extensive beer & wine lists, signature cocktails and mules. Casual, relaxing atmosphere.
2611 N Highway 15
Wayne
402.833.1801
Wayne Sculpture Walk
Open In-Person Mon-Fri 8am-5pm, however The Sculpture Walk is accessible to the public 24/7 year round.
108 W 3rd St
Wayne
877-929-6363


Wayne County Links
Wayne
Economic Development | Chicken Show | City
County | Daily News | Wayne News
Majestic Theatre | Aquatic Center | Golf
Museum | Library | Planetarium
WSC Calendar | Beaumont Event |
Cemeteries
Altona
First Trinity Lutheran Church Cemetery | Hermann Sohne Cemetery
Carroll
Bethany Presbyterian Cemetery | Elmwood Cemetery
Hoskins
Ecumenical United Brethern Cemetery | Trinity Cemetery
Zion Lutheran Cemetery
Wayne
LaPorte Cemetery | Greenwood Cemetery | Hunters Grove Cemetery | Saint Paul Lutheran Cemetery | Salem Cemetery
Winside
Immanuel Cemetery | Pleasant Valley Cemetery | Pleasant View Cemetery | Swedish Cemetery | Theophilus Cemetery



Interesting area Information
GEOCACHES
There are at least 25 geocaches in Wayne County