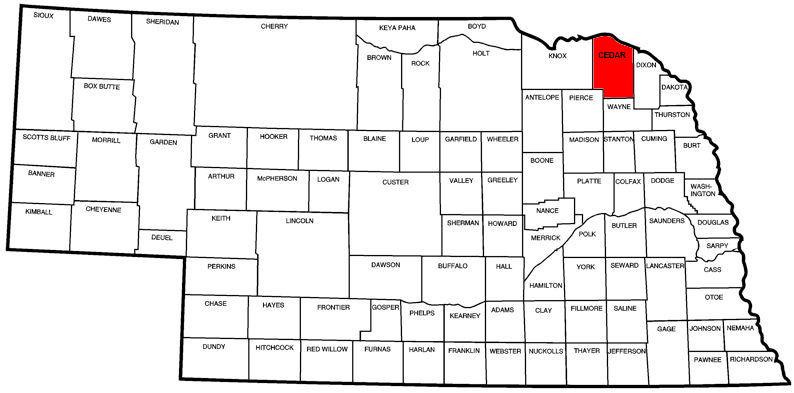 Cedar's north border runs along the River,
With 21 stamps for your map, we are sure to deliver!
On Cedar county's Backroads Tour,
Our rolling hills are only part of the lure…
There are Parks and Pools, and Trails of all sizes…
Collect your stamps and you could win prizes!
If you like golfing, there are three great courses,
And even two disc-golf, for more 'outdoor-fun' sources!
We have fun shops and tasty places to eat,
You are sure to enjoy all the great people you'll meet.
Boutiques, flowers and greenhouses too,
All of this and more are waiting for you!
We have lots of events to add to your fun!
Ag Days, concerts and carnivals will give you time in the sun.
Ribfests and cornhole tournaments… you won't want to miss!
Community Fair and Street dances will add to your bliss.
Keep in mind, we have nice places to stay,
So you can rest your head at the end of your day.
Don't overlook our Brew houses or the taste of fine wine;
You can plan your trip early… check us out online…
We hope that you will find that there is nothing sweeter,
Than the Summer '22 Backroads Tour… and visiting Cedar.
Cedar County Businesses
Business/WWW
Address
City
Contact #
COLERIDGE
Rodeo's Bar
and Grill
Open M-Th: 9a-10p; Fri & Sat:9a-11p; Sundays: 4-9. Friday Night Fish Fry; sirloin tips – 1st Saturday; burgers (Rodeo's Best Burger); Fried chicken; Variety of shrimp dinners; Homemade pies and cakes.
116 W. Broadway
Coleridge
402-283-4297
CROFTON
Murdos Aten Resort
Open Wed-Sat 5p-9p Sun 11a - 3p. Starting May 23 -Tue-Thur 4P-9 Fri-Sun 11A-9P. Off-menu daily chef specials, famous fish, prime rib. Located on the banks of the Missouri River, seafood, steaks, burgers, pastas, other delicious items. Amazing patio views and refreshing drinks.
55421 Hwy 121
Crofton
(402) 388-4455
FORDYCE
Boondocks
Open Wed - Sun 5P to 12A Restaurant and bar
201 Main st
Fordyce
402-357-2756
Diane's Greenhouse
Designer baskets, annuals, perennials, trees, shrubs, roses, Metal garden décor, pottery, limited home décor. We grow what we sell at our greenhouse. We are known for our designer baskets, along with our outstanding annuals, perennials, trees and shrubs.
88781 557 Ave
Fordyce
402-357-3754
HARTINGTON
Big Hair Brewhaus
Open Wed-Thu 4P -10P, Fri 4P- 1A, Sat noon to 1A, Sun noon to 9P. Small town Nebraska charm with a big city feel with only the finest craft beer and cocktails, domestic beers, and wine along with a full schedule of live events and great conversation, located in downtown Hartington.
306 N Broadway
Hartington
402-254-2337
Hartington Golf Club
Open in season Monday noon-8P?, All other Days 8A-8P. Considered one of the premier golf courses in Northeast Nebraska. The 9 hole course features a mixture of tree-lined holes over varying terrain. Our banquet room can accommodate up to 100 people for meetings and celebrations.
710 W Clubhouse Dr.
Hartington
402-257-7312
Hotel Hartington/
Chasin'Charlies
Open Tues - Fri 9A-4P Sat 9A - 2A Closed Sun/Mon Gift shop with a mix of vintage and new items, in addition to Heartland Doc merchandise. Rooms available to rent in our beautiful Historic Hotel
202 N. Broadway
Hartington
402-254-9202
Kruse True Value
Open M-F, 8a-5:30p; Sat, 8-5; Sun, 11-4. Our goal has been to deliver the best brands at the best possible price, while delivering outstanding, friendly, customer service. We will work with you to find a product that fits your needs, budget and lifestyle.
207 N. Summit
Hartington
402-254-3840
Nissan Wine
We offer award winning wine from reds to whites and sweet to dry. Sundays noon-6, May/Sept. Call ahead for tasting. Along the Outlaw Trail, several wines highlight the outlaws.
88973 Hwy 57
Hartington
402-254-3426
Sheila's Country Garden
Open Mon-Sat 10a-5p Sun 1-4. Garden Center · Gift Shop · Home Décor. Sheila's has a wide variety of gifts and home decor that you are sure to love. Sheila's Country Gardens holds fun events throughout the year. We can guarantee you'll love what we have to offer!
87930 Hwy 57
Hartington
402-254-6379
The Chief
Open 12P to 2P. 5P to 12A Restaurant and bar
107 E Main st
Hartington
402-254-9107
Reinvented Mercantile
Open Mon-Fri 7A - 5:30P Sat 7A -Noon Unique boutique, where fixer Upper meets Junk Gypsy! Update your wardrobe from anything between jewelry to dresses.
212 Broadway
Hartington
(402)518-1654
LAUREL
Baileyz BBQ Sauce
Tue 11A-6P, Wed-Fri 11A-9P, Sat 11A-7P Bar B Que Sauce Company
117 E 2nd St
Laurel
402-518-0917
Creative D.zynes
Custom embroidery & printing-shirts, caps, jackets, towels, stockings, promotional products Fat Brain Toy Co. toys and games
118 W. 2nd St.
Laurel
402-841-4806
Laurel Floral
Open M-F 10-5:30, Sat 9-noon Home Decor, Ladies clothing, Full service florist
107 ½ E. 2nd St.,
Laurel
402-256-9119
Knuckleheadz Bar
Open Mon: 4P-1A, Tue-Fri 11A-1A, Sat 2P-1A, Sun 2P-11P Bar/Restaurant
117 E 2nd St
Laurel
402-256-8120
Laurel ACE Hardware
M-F 8:00AM-6:00PM, Saturday 8:00am-4:00pm, Sunday 9:00-Noon
402 S. Hwy 20
Laurel
402-256-3400
T & H Meat Co & Fine Spirits
Tue 11A-6P, Wed-Fri 11A-9P, Sat 11A-7P Meat/Liquor/Nebraska Product Shop
117 E 2nd St
Laurel
402-256-8400
The Scoop
Open Sun-Thu 11A-9P, Fri-Sat 11A-8P. All Angus Beef Patties from the American Cattleman, rich creamy ice cream from the American Dairymen, Chaos, Villa Dolce Gelato Italian Ice Cream, Flavor Burst Flavors for unique Soft Serve Ice Cream, Sundaes, Malts, Whip, Slushies.
100 N. Hwy 20
Laurel
402-256-8118
RANDOLPH
Randolph Community Golf Course
209 W. Walden
Randolph
402-337-1405
Wattier True Value
and Service Center
M-F 8:00AM-6:00PM, Saturday 8:00am-4:00pm, Sunday 9:00-Noon Our store is a 90 year old Ballroom with a unique lattice roofing system. Come and see the "old Ballroom" And while you're here check out our garden and gift center. You will find things that you have never seen before.
55786 US Hwy 20
Randolph
402-337-0455
SOUTH YANKTON
Backroad Bar -B-Q
and Service Center
Open Thu, Fri, Sat 4 - 9P The area's only authentic barbecue restaurant. We take no shortcuts in slow-smoking our signature meats. All of our meats and sides are made fresh from scratch each day. Named Best Barbecue Restaurant in NE by Food & Wine Magazine in 2020.
55698 898 Road
S. Yankton, NE
402-667-7262


Cedar County Links
Coleridge
City | Community Club
Hartington
City | County Fair | Museum
Facebook | Instagram
Laurel
City | Facebook
Randolph
City | R.O.A.R
Cemeteries
County Index
History


Interesting area Information
GEOCACHES
At least 71 geocaches in Cedar County.