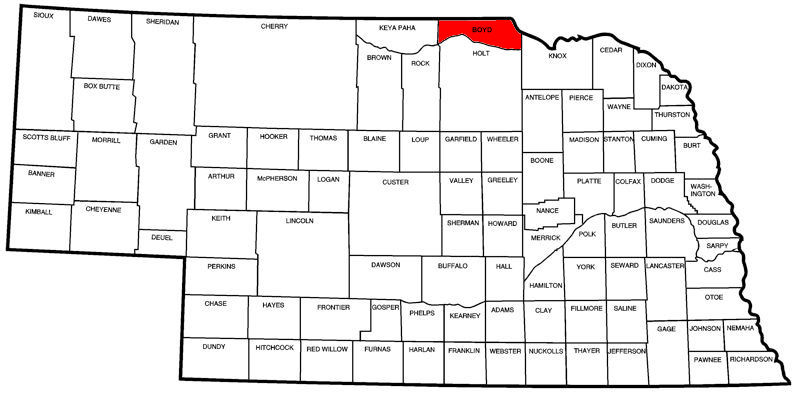 Boyd County is a county in the State of Nebraska. As of the 2010 United States Census, the population was 2,099. Its county seat is Butte. The county was formed in 1891 and named after James E. Boyd, the Nebraska Governor at the time.
In the Nebraska license plate system, Boyd County is represented by the prefix 63 (it had the 63rd largest number of vehicles registered in the county when the license plate system was established in 1922).
In the 2010 United States Census, three incorporated villages had populations of fewer than 10 people: Anoka, population 6, Gross, population 2, and Monowi, population 1. Monowi was the only incorporated city in the United States with only one resident at the 2010 census.
All land north of the Keya Paha River (which includes most of Boyd County and a smaller portion of neighboring Keya Paha County) was not originally part of Nebraska at the time of statehood, but was transferred from Dakota Territory in 1882.
Boyd County Businesses
Business/WWW
Address
City
Contact #
BUTTE
Ellwanger's Greenhouse & Floral
Open Mon - Fri 9A - 5P, Sat 9A - noon. Unique home décor, toys, fresh arrangements & everything from A to Z! Our greenhouse has all you need to make your garden & yard beautiful! Bedding plants, hanging baskets, unique planters. Trees/shrubs, garden seed, onion bulbs, & seed potatoes.
1031 Gale St
Butte
402-775-2300
Country Dreams
Open Tue - Fri 9A-5P, Sat 9-2. Country Dreams is a unique gift shop featuring handmade treasures and gift items. Quilts, shirts kitchen items, hand painted items, crochet, gift baskets, jewelry.
511 Thayer
Butte
(402) 309-4491
GROSS
Nebrask Inn
Open daily. Mon 9A - 3P, Tue-Sat 9A - 1A, Sun closed. Our little restaurant offers you an atmosphere you can be comfortable bringing your children or your grandmother for a homecooked dinner and 5 cent cup of coffee. A place that's not too good for anybody but good enough for everybody.
49686 1st Ave
Gross
(402) 583-9922
LYNCH
Eagle Lanes
Open Mon-Wed-Fri 11A-8P, Tue-Thu-Sat-Sun 3P-8P Bowling leagues, 2 mens , 1 womans, and youth leagues, Shuffleboard, Food served all the time. Hamburgers, French Fries, Tater tots, Pizza, Pop and Beer, Shuffleboard
324 Hoffman St.
Lynch
402-569-2955
Monowi Tavern
Open 9 am Tuesday - Sunday. Serving Hamburgers, side salads, Deep fried sides, gizzards and Grilled Steaks. Monowi population 1 and Elsie and her late Husband Rudy have a library in Monowi just North of the Tavern. Meeting place for the Nightowls Motorcycle Club.
9 Broadstreet
Lynch
402-569-3600
SPENCER
Country Café
Open 6am-9pm. Our beef is Boyd County beef. It is homeraised. We are a patriotic café and love to honor our vets on Veterans Day with a free lunch. In November of 2015, the café opened. Ken is a Vietnam veteran which is why it has a patriotic theme. He and everyone that works here love our country.
201 S Thayer
Spencer
402-589-1119
63 County Store
Open MON–FRI 8A– 6P SAT 9A-4P We offer a wide variety of items, carrying Nebraska made products, toys, memorial gifts, everyday items, wine, candles, gourmet foods and now offer photo printing. We are located near to Niobrara and Misouri rivers.
203 S Thayer
Spencer
402-589-1111
Lilee Louise
Open  Tues 1 – 5, Wed 1 – 6, Thurs 1 – 6,  Fri 10-4,  Sat 10-3. Rural route 63 original collection (graphic Tees, Candles and more). Voted 2017,2018,2019 NE Boutique of the Year. Designer SweatShirts/T's. Save Our Small Communities from the Rural Route 63 original Leslie Collection.
100 E Evans
Spencer
402- 340-6463
Boyd County scenes


Boyd County Links


Interesting area Information
GEOCACHES