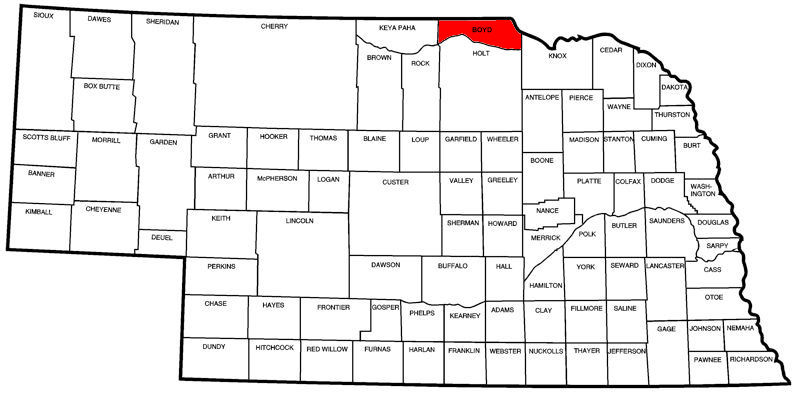 Welcome to God's Country. Located on the Nebraska –South Dakota border, Boyd County is one of the smaller counties in Nebraska. Once the home of horse thieves, cattle rustlers, and known outlaws such as Kid Wade, Doc Middleton, and Frank and Jesse James, whose favorite past time was to steal horses and drive them to Niobrara country and sell them. And then steal horses from there and drive them in the other direction selling horses as they went. (Experience had taught them that is was easier to handle horses than cattle.
Most of the territory that is now Boyd County, was originally a part of the great Sioux Indian Reservation. The rest of Boyd County was consisted of part of the Fort Randall Military Reservation and Turtle Creek Precinct. The original Turtle Creek precinct was the territory between the Keya Paha and Niobrara Rivers in western Boyd County. Turtle Creek was a part of Holt county and was settled before the rest of Boyd County.
In 1889 after much debate and hassle, government officials forced a treaty with the Indians in order to throw open the tribal land for settlement. However, the Indian Chief refused to sign the treaty by picking up a handful of dirt and letting it fall through his fingers as he told the officials that they could not eat dirt. Eventually, the chief was finally persuaded to sign the treaty and they were given six months to relocate.
How did the towns in Boyd County get their names? Generally, local sentiment rules in picking names for towns, though in the early days of settlement in Nebraska, a number of factors entered into the naming of a town. The settlement might be made by people from the same place in an eastern state, then the name of the town from which they came would be given to the new town. Names of generals and statesmen of the Civil war period were given to counties and towns. Generally there is a reason for every name of every town and a little investigation of the names of the towns in Boyd County discloses some interesting results. Following are the names of all the towns in alphabetic order that sprang up in Boyd County. (Note: some are no longer in existence.)
Boyd County was named in honor of James E. Boyd who was governor of Nebraska (1891, 1892-1893) at the time the county was organized. The County was established and its boundaries defined by an act approved on March 20, 1891.
READ MORE below
Boyd County Businesses
Business/WWW
Address
City
Contact #
BUTTE
Ellwanger's Greenhouse & Floral
Open Mon - Fri 9A - 5P, Sat 9A - noon. Unique home décor, toys, fresh arrangements & everything from A to Z! Our greenhouse has all you need to make your garden & yard beautiful! Bedding plants, hanging baskets, unique planters. Trees/shrubs, garden seed, onion bulbs, & seed potatoes.
1031 Gale St
Butte
402-775-2300
Country Dreams
Open Tue - Fri 9A-5P, Sat 9-2. Country Dreams is a unique gift shop featuring handmade treasures and gift items. Quilts, shirts kitchen items, hand painted items, crochet, gift baskets, jewelry.
511 Thayer
Butte
(402) 309-4491
GROSS
Nebrask Inn
Open daily. Mon 9A - 3P, Tue-Sat 9A - 1A, Sun closed. Our little restaurant offers you an atmosphere you can be comfortable bringing your children or your grandmother for a homecooked dinner and 5 cent cup of coffee. A place that's not too good for anybody but good enough for everybody.
49686 1st Ave
Gross
(402) 583-9922
LYNCH
Eagle Lanes
Open Mon-Wed-Fri 11A-8P, Tue-Thu-Sat-Sun 3P-8P Bowling leagues, 2 mens , 1 womans, and youth leagues, Shuffleboard, Food served all the time. Hamburgers, French Fries, Tater tots, Pizza, Pop and Beer, Shuffleboard
324 Hoffman St.
Lynch
402-569-2955
Monowi Tavern
Open 9 am Tuesday - Sunday. Serving Hamburgers, side salads, Deep fried sides, gizzards and Grilled Steaks. Monowi population 1 and Elsie and her late Husband Rudy have a library in Monowi just North of the Tavern. Meeting place for the Nightowls Motorcycle Club.
9 Broadstreet
Lynch
402-569-3600
SPENCER
Country Café
Open 6am-9pm. Our beef is Boyd County beef. It is homeraised. We are a patriotic café and love to honor our vets on Veterans Day with a free lunch. In November of 2015, the café opened. Ken is a Vietnam veteran which is why it has a patriotic theme. He and everyone that works here love our country.
201 S Thayer
Spencer
402-589-1119
63 County Store
Open MON–FRI 8A– 6P SAT 9A-4P We offer a wide variety of items, carrying Nebraska made products, toys, memorial gifts, everyday items, wine, candles, gourmet foods and now offer photo printing. We are located near to Niobrara and Misouri rivers.
203 S Thayer
Spencer
402-589-1111
Lilee Louise
Open  Tues 1 – 5, Wed 1 – 6, Thurs 1 – 6,  Fri 10-4,  Sat 10-3. Rural route 63 original collection (graphic Tees, Candles and more). Voted 2017,2018,2019 NE Boutique of the Year. Designer SweatShirts/T's. Save Our Small Communities from the Rural Route 63 original Leslie Collection.
100 E Evans
Spencer
402- 340-6463
Boyd County scenes


Boyd County Links
BOYD Co. HISTORY Cont.
~ALFORD – A village and a former post office near the southeast corner of Boyd County in Bush precinct, probably named for a local resident. All that remains of the town is the Alford cemetery which is still used.
~ANOKA – Is the Dakota Indian word meaning "on both sides." This town was named by the Pioneer 'Townsite company after Anoka, a town in Minnesota, in Anoka County. The Minnesota town is located on both sides of the Rum River. The Nebraska town, however, has no river location. Villages in Indiana and New York also have the same name. The 2010 census reveals Anoka is a incorporated village with a population of 6. The cement platform of the railroad station and two old grain elevators are all that remain of this village.
~BAKER – was a village in northern Boyd County near the South Dakota border and was named for an early homestead family. Many residents from Gross moved further west to the new town of Baker in anticipation of the coming railroad. If the railroad had come from Lynch to Gross and from Gross to Baker and then to Fairfax, instead of following the Ponca Creek, Baker's future would have been assured. In a short time, Baker had three churches, two stores, a blacksmith shop, livery stable, lumberyard, dance hall, hotel, a school house, post office and telephone. All that is left of Baker is two cemeteries, Catholic and Swedish Lutheran.
~BRISTOW– was named in honor of secretary of the treasury, Benjamin H. Bristow, of President Grant's cabinet. It was platted in 1902 by the Pioneer Town-Site company for a railroad stop for water.
Nebraska State Bank–M & M Lockers (Meat)–Ponca Pub & Eatery-Filling Station
~BUTTE – Butte's name was suggested because of a rock upheaval of ground just south of the town-site. These upheavals or elevations can be traced from the Black Hills region in a southeasterly direction. It is thought that they were formed by huge icebergs which floated down and at intervals tipped off their deposits. There is no similarity between these deposits and the surrounding soil. Butte is the county seat of Boyd County.
Boyd County Courthouse–Ellwanger's Green House and Floral–Gun Show at Spencer Community Hall June 5 & 6–Museum in the old Catholic School–Butte Golf Course–Badger BBQ Cookoff & golf tournament June 5 Contact Ann Holz 402-336-8499 to enter–Pancake Days – carnival – June 29, 30 and July 1 DC Lynch shows will be on main street
~GROSS – The next three exits will lead to the incorporated village of Gross with a population of two, who are owner and operators of the one and only business in Gross, the Nebrask Inn. Gross was one of the earliest towns established in Boyd County and was named in honor of B. B. Gross. Mr. Gross was one of the first settlers in his neighborhood and homesteaded the land on which the town is located. He was the first postmaster and later operated a business. Proudly displayed in the town square is a 120 year-old working hand pump, an ancient Iron Post that once marked a corner of the Fort Randall Military Reservation, and a flag pole and American flag dedicated to Pvt. Larry Fish, son of Mr. and Mrs. Henry Fish, who was killed in 1968 while on duty with the National Guard and to Marjorie Stringfellow, who established the Nebrask Inn and was refounder of Gross, and standing guard over the town square is the old bank vault.
Nebrask Inn -Steak night Saturday evening, Indian tacos and homemade pie on Tuesday evenings
~LYNCH – John Lynch founded the town of Lynch in 1892 after Indian Land was opened for settlement. Lynch is located on highway 12 following the now removed Chicago and Northwestern railroad. Outlaw Kid Wade and his mother are buried in the Highland Cemetery north of Lynch. Founder John Lynch & his wife, buried in the Catholic Cemetery near Whiskey Creek. Iron Post is a historic post marking a corner of the Fort Randall Military Reservation
Alumni Banquet and June Fest weekend June19–Gas station–Eagle Lanes Bowling Alley – food available–Swimming Pool–RV Park–Public Library–Movie Theatre–Special T's & More.
(Cont. in next column)


Interesting area Information
~MANKOTA- At one time Mankota was an inland village near the center of Boyd County . It was doubtless named for Mankota located in Blue Earth County, Minnesota, which is situated on the Minnesota river, a short distance below the mouth of the Blue Earth (or Mankota) river. Mankota is from the Dakota Indian word, meaning Blue Earth.
~MONOWI- Is and Indian name and means "flower". This town was so named because there were so many wild flowers growing in the vicinity. It is also claimed that Monowi is a word of some Indian language for a plant with milky juice or a sponge called snow-on-the mountain. (Euphorbia marginata.) Elsie Eiler is the only living person in this incorporated town. She owns and operates the bar, as well as being the mayor, treasurer, tax collector, cook and bartender and all other positions for the village. Monowi is probably the smallest town with a public, library which is operated on the honor system. The library was started by Elsie's husband, Rudy, whose dream was to have a library in Monowi. It is estimated that Rudy's Library has over a 1000 books. Tourists traveling highway 12 make a special point of stopping in to meet Elsie. She has several books filled with names of people that stop to met her. Elsie has had visitors from all states and some foreign countries plus many opportunities to appear on TV. Several years ago, Monowi became the site of the biggest Arby's advertisement sign ever made in the smallest town.
~NAPER- The original homestead of 160 acres was filed by Ralph Naper who gave 80 acres for a town site and named it Naper. Naper is located in western Boyd County.
~Cal and Ruth Thomson established the White Horse Ranch after their marriage and developed a breed of all white horses, (not albinos). The White Horse Ranch was located south of Naper near the Niobrara River. All animals on their ranch were white. Children spent the summer on the ranch and each had a horse to care for and ride. A white horse troop put on shows in the natural arena and traveled to celebrations all over the United States and Europe. The White Horse Museum is located in a large building on Naper's main street.
Naper has a second museum. This one can be found in the former Catholic Church a couple blocks off of the main street. Displayed in this museum are items from the Naper school, the town of Naper and surrounding area and a large display honoring the 28 Pilots killed while in training for service during World War II during a vicious thunderstorm south of Naper. A monument honoring the pilots stands in the Knollcrest Cemetery along Highway 12 east of Naper. Funds for monument came from donations from families, friends and the public. No government funds were used.
~ROSEDALE- is a descriptive name for this inland village. The Rosedale Convenant Church and house are the only buildings still standing. The church has held Sunday services and other activities for well over one hundred years. A well kept cemetery is still in use a couple miles away from the church. A Christmas Tea is held the first Saturday of December and on the next day a Christmas program and potluck dinner is held. Summer sizzler with hot dogs is held in August followed by a musical program for the public.
~SPENCER- is in an area that was once part of the Dakota Territory, which itself was once part of the original Territory of Nebraska.Spencer is situated on a beautiful elevation that rises gradually from the Ponca Creek and is very near the geographical center of Boyd County. Ed. L . Whiting and Henry Storm selected the site for Spencer in April 1891.
The first Fourth of July celebration in Spencer was in 1892. Old Yellow Horse and his tribe were there to put on war dances for amusement. This was quite a curiosity to many settlers as it was the first Indian pow-wow they had ever seen. The formal opening of the Carniegie Library was in 1929. Carl Danielson, who lived north of Spencer, boasted of owning the largest steer in the world. It weighed about 3500 pounds, and was shown at many fairs and celebrations and died in 1934.
A Military monument dedicated to Boyd County Veterans sits on the main street of Spencer.
Spencer's Alumni banquet is celebrated the fourth Saturday of June 26 at the Community Hall–Swimming Pool–Road Runner's Gas Station–Country Cafe–Swimming Pool–Boyd County Fair – 4-H, FFA, and open class July 29, 30 and 31. parade on last day.
Evil Knievel's great-grandfather is buried in St. Mary's Catholic Cemetery on the outskirts of Spencer